1. Who do I teach?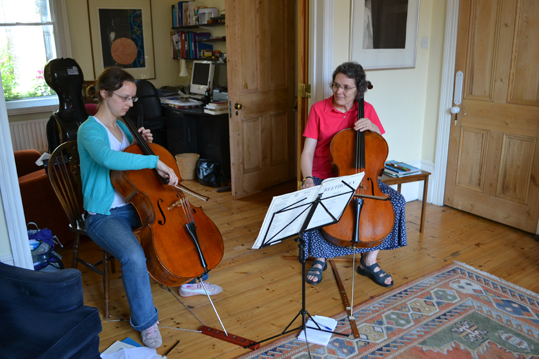 At the moment, I teach adults in the main and occasionally young adults aged 16yrs and upwards. I have always enjoyed teaching younger age groups and I am certainly hoping to return to it one day.

Everyone's timetable varies and some are more pressured than others. I am equally interested in teaching:

Players of a wide range of standard who play quite a bit - in orchestras, chamber music groups, solo at home for relaxation and so on - but, for a wide variety of reasons, have virtually no time to practise at all! Players of any standard, from the very start to very accomplished, who are able to include quite a lot of practice in their timetable. Players of a wide range of standard whose timetable allows some practice, or whose time for practice fluctuates!
How we go about it differs a good deal according to individual circumstances and aims.
The 'non-practising busy players' group is a particular area of interest for me at the moment; it is an extremely common situation and there is much that we can do to develop our playing within that special framework. Whatever your situation, however, all you need is an open mind, a willingness to try things out, and a strong desire to develop your cello playing, understanding and musical response as far as you are able.
Some of my current and recent pupils are described below. You may feel an affinity with some of these pupils, or you may wish for something quite different.
Do contact me either way to discuss your ideas. Variety is the spice of life as far as I am concerned!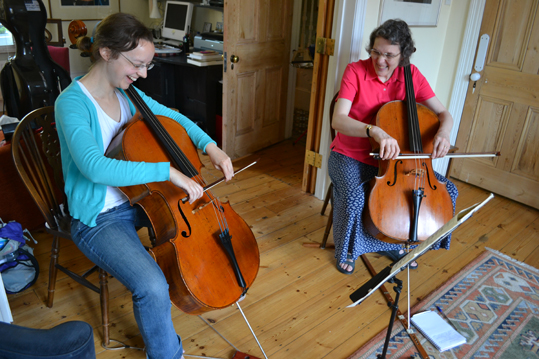 Beginning to play
Pupils who already play various instruments and decided to learn to play the cello for the pleasure of it, sometimes also with a view to playing in an orchestral cello section. Chamber music is the goal of several recent pupils. Playing bass lines has proved an interesting change of perspective for some treble instrumentalists. Another beginner has no musical experience but loves music and the sound of the cello. He has the all-important time to practise that a complete beginner really needs, and is discovering all sorts of music and acquiring the necessary musicianship skills as part of the process of learning to play the cello. (See
Writing
section for other ideas for beginners, including a link to ELLSO).
Developing cello playing
One pupil felt that she had basic problems that were holding her back. She has almost no time at all to practise and often has to tackle difficult music with chamber groups and the local orchestra. She books a lesson whenever she can and we work on basic and expressive cello playing for each piece. Over the years her playing has been transformed in this way, though we still have conversations about how nice it would be to have time to practise scales regularly! Quite a few cellists have arrived feeling really uncomfortable playing the cello. They wanted to go back to the beginning and rebuild their whole technique and approach. This takes time and practice and the rewards have been worth it! Another recent pupil played quite well but wanted to push herself to a much higher standard so she entered herself for grade 8. She came for a whole series of lessons and worked and practised away and gained a distinction! Now she's taking a well-earned break from lessons!
Onwards and outwards
A pupil is studying contemporary repertoire, which is a special delight; I always hope to encourage more players to explore this wonderful musical world (see
Lesson Approach and Content
for details). There is music for players of most standards, so you don't have to wait until you are astonishingly proficient! Another very accomplished player comes for a group of lessons when he has a solo performance coming up.
Professional teacher/players
I know that some cello teachers feel an affinity with some of the pupils described above!
If so, you can rest assured that we can explore and develop all aspects of your playing and musicianship in a wholly enthusiastic and non-judgemental atmosphere. We can effectively tackle matters of teaching and learning through the actual process of developing your own playing. We can also extend the experimentation and discussions to share ideas about your own pupils' development too. You may be just starting out or you may have attended one of the many excellent professional development courses available but still feel there are 'loose ends' and further areas to investigate. Whatever your situation, do contact me to discuss areas you would like to work on. One teacher, who is an excellent player, but uncertain (unnecessarily!) about his teaching, comes over every now and then to discuss specific and general matters of learning and teaching cello playing and music. Another player has just started to teach, as an adjunct to her other professional work in music, and shows real flare and creativity in her approach. Our sessions concern her own playing (which is developing fast) and umpteen aspects of teaching and learning. When she has time and finance she will gain much from a professional development course such as the CTABRSM. From time to time it has been my privilege to work with professional cellists who have experienced difficulties with their playing or who wish to extend their technique as well as their musicianship and response, particularly with regard to contemporary music. Many players/teachers have not really had a chance to explore contemporary music. See
Lesson Approach and Content
(and
Thoughts About Music
) for why I think everyone should do so and how you can go about it!
Composers wishing to explore and develop their music for cello.
(See also
Workshops
). I have worked on preliminary ideas and also on compositions in progress, to find what best suits the composers' inspiration and musical vision.
Ensembles
I am always delighted to work with ensembles of all standards. My aim is to help draw out the unique sound and musical character of each group. I have coached and mentored string duos, quartets, ensembles and string ensembles with piano and various instruments. There is so much we can discuss and try out at a basic level or in more detail: whether to be united or individual in playing the same phrase; whether to tune 'melodically' or 'harmonically' - or just sound 'in tune' (source of endless differences of opinion in any group!); what 'playing as an ensemble' really entails and how to go about it, even if we are very individual personalities (subject of Vikram Seth's An Equal Music ?); how to bring the music to life and respond to the very different musical and technical demands of each composer and composition.
Note
. I have a large room with a very good acoustic so you have space to relax and play. I have a very nice (upright) piano too.